In a landmark development, the Federal Government of Germany and Deutsche Bahn (DB) have unveiled a comprehensive infrastructure program aimed at rejuvenating the nation's railway network and stations. This initiative represents the most extensive investment in rail infrastructure since the railway reform of 1994, with a primary goal of enhancing punctuality and aligning transport policies for both passengers and freight.
Key highlights of this ambitious program include:
Network Rehabilitation and Expansion: The highly congested railway network will undergo extensive rehabilitation, expanding it into a high-performance network spanning approximately 9,000 kilometers.
Addressing Investment Backlog: The initiative will tackle the investment backlog in the railway network, leading to improvements in the regional rail system.
Capacity Enhancement: Measures to increase capacity, such as additional transfer points, switches, and denser signaling, will be implemented to enhance network stability and service reliability.
Digitalization of Rail Network: A nationwide rollout of the European Train Control System (ETCS) will drive the digitalization of the rail network, potentially increasing capacity by up to 30 percent on the existing infrastructure.
Network Expansion: Targeted expansion and construction of rail lines will eliminate bottlenecks, facilitating the realization of the integrated timetable for Germany.
Station Modernization: A large-scale modernization of stations across Germany is planned, with a focus on enhancing passenger comfort and services along high-performance corridors and regional networks.
"We are renewing and modernizing the infrastructure with a program that is unprecedented in DB's history. A big thank you goes to the federal government for its commitment to provide the additional funds of up to 45 billion euros needed for this. The truth is, however, that the enormous construction workload will also be challenging for passengers and freight transport companies," emphasized Richard Lutz, Chairman of the Management Board of DB AG.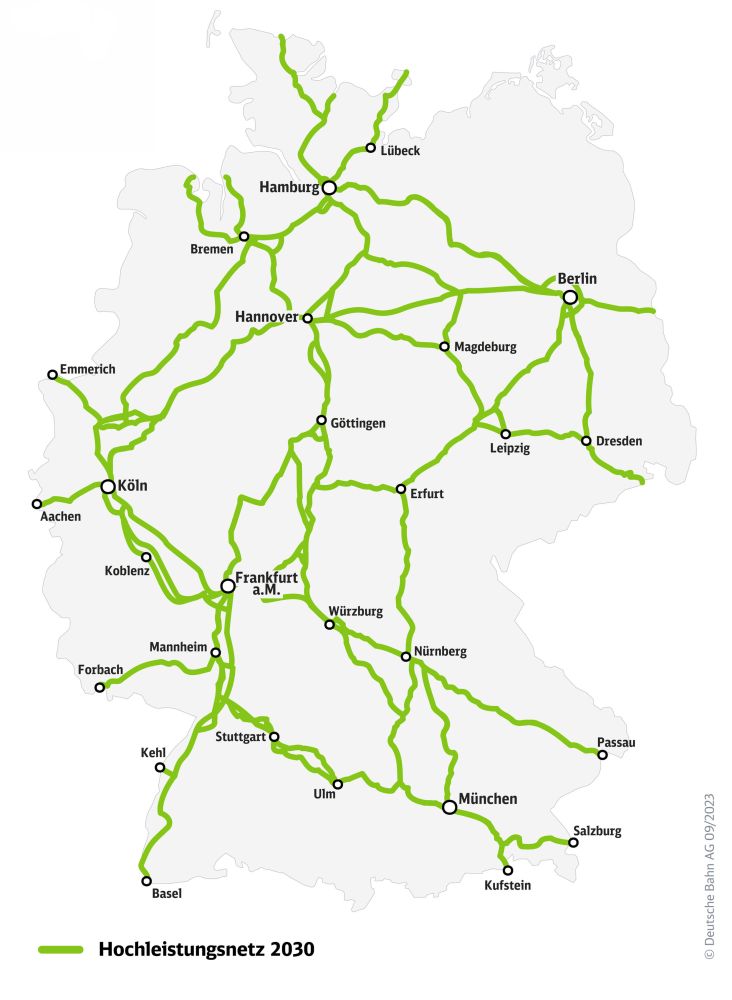 The centerpiece of this initiative is the comprehensive refurbishment of 40 line sections within the heavily congested network by 2030. These sections will undergo closures lasting several months at a time to facilitate the extensive work. Upon completion, the lines are expected to be more resilient to disruptions and considerably more efficient. The Riedbahn between Frankfurt/Main and Mannheim is set to be the first line to undergo a general overhaul in the coming year, with the Hamburg-Berlin and Emmerich-Oberhausen lines following suit in 2025. Alongside these upgrades, DB plans to significantly enhance 20 stations along the Riedbahn route.