Adif Alta Velocidad (Adif) has put into operation the first of three sections of the Madrid-Extremadura high-speed line. The route includes tunnels and 28 viaducts, among them, the Almonte viaduct, one of the concrete bridges with the longest railway arch in the world.
The route, valued at 1.7 billion EUR, runs approximately 150km between Plasencia and Badajoz, mainly on a double track, passing through Cáceres and Mérida. In this first phase, Iberian gauge tracks with multi-purpose sleepers have been put into operation. This will allow the transition to standard gauge in the future, together with a digital signal and braking announcement ASFA. Together with the new signaling and control equipment, the speed on the line is also increased, which can be up to 200 km/h. All this contributes to better journey times and transport reliability.
The route includes several unique structures, such as the tunnels of Santa Marina (3.4 km) and Puerto Viejo (1 km), as well as 28 viaducts, including the Almonte (996 m), Río Tajo (1.5 km) and Valdetravieso (1.6 km). The first two have been developed under the 'concrete arch' typology, with main spans of 384 m in the case of Almonte - which makes it one of the longest span railway arch bridges in the world.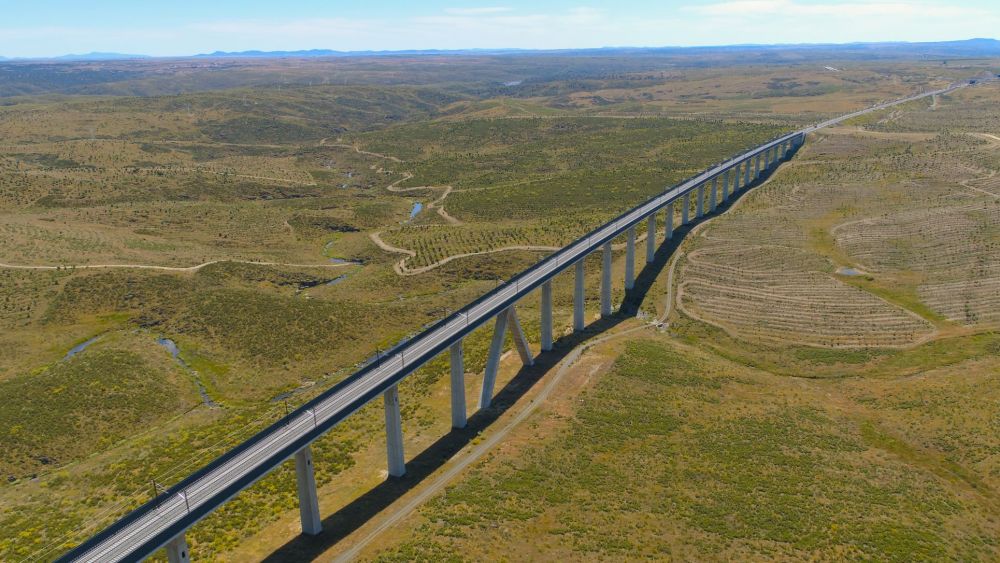 The construction of the corridor was carried out according to strict principles of respect and integration into the surrounding nature and environment: for example, the 42 km long corridor was built to preserve the Special Protection Area for Birds (ZEPA) of Monfragüe, which is part of the Natura 2000 network and to respect the Torrijos and Castrejón water reservoir sites.
In addition to the railway infrastructure, Adif has carried out important works worth more than 15 million euros at the stations in Plasencia, Cáceres, Mérida, and Badajoz. The work included the renovation of the station buildings and their approaches, as well as measures aimed at accessibility and integration into the urban structure.
The Madrid-Extremadura High-Speed line will total 437 km in length and will cost 3.7 billion EUR. It is part of the Atlantic Corridor and will be completed with two other sections: Madrid-Oropesa and Tayuela-Plasencia, the latter under construction. The project is co-financed by the European Union and contributes to the Sustainable Development Goals by creating reliable, sustainable, resilient, and high-quality infrastructure.