w&p Zement GmbH is a manufacturer of cement, binders, aggregates, and special building materials in southern Austria. Its plants are located in Wietersdorf in Carinthia and in Peggau, Styria. Its products form the basis for durable and sustainable buildings such as bridges, tunnels, housing, and foundations. Since 2019, w&p has been a customer of ÖBB Rail Cargo Group (RCG).
Since then, RCG has transported up to 80,000 tonnes of clinker and granulated blast furnace slag in round trips per year for its customer w&p Zement, which is approximately 2,000 tonnes per week. The transport is carried out multimodally thanks to MOBILER.
w&p Zement has its own siding on the company's premises in Wietersdorf, Carinthia, where MOBILER containers are loaded with cement clinker. They are then transported by rail to the unloading point at the Peggau-Deutschfeistritz railway station in Styria. The MOBILER takes over at the general loading road in Peggau so that the group of wagons can continue empty to the premises of voestalpine Stahl Donawitz in Leoben, Styria, where the group of wagons is loaded with granulated blast furnace slag. The wagons then return to Wietersdorf, where the slag is unloaded and the MOBILER is again used for the last kilometer by truck.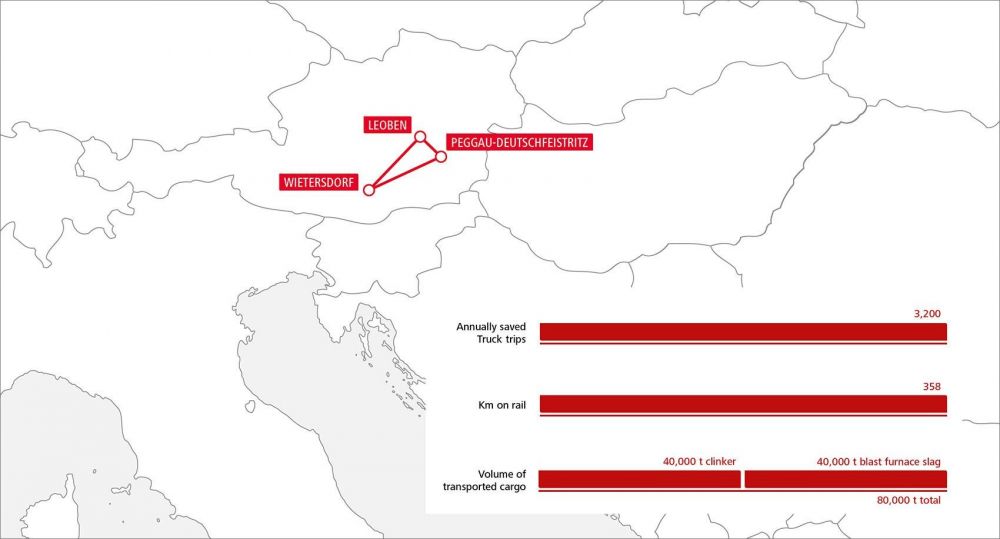 This multimodal and individual logistics solution via MOBILER is succeeding in significantly reducing the environmental burden of trucks, and w&p Zement continues to strive to shift more freight transports to rail and is working on further innovative transport solutions.