The report was completed by Global Industry Analysts, Inc., a reputed publisher of off-the-shelf market research. The Company publishes market research reports, as well as offers business, marketing, opinion, and other economic research.
The extensive report focuses on rail freight transport in general, which plays a key role in securing the supply of essential goods. It pays particular attention to the effect of the crisis caused by the COVID-19 pandemic. According to the report, amidst the background of the COVID-19 crisis, the global rail freight market, which was estimated to be USD 169.8 billion in the year 2022, is projected to reach a revised size of USD 205.3 billion by 2026, growing at a CAGR of 4.3% during the analysis period.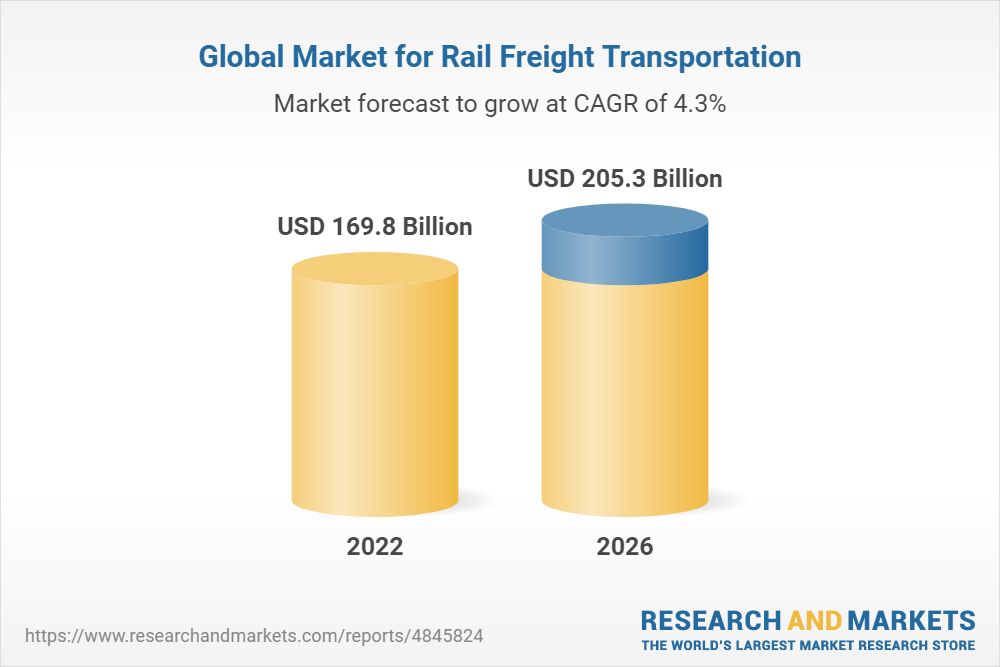 According to the authors, the market growth is driven by the increasing volume of freight transport, infrastructure development, and the adoption of new advanced technological solutions. A lot of countries also perceive that the increase in rail traffic will contribute to the reduction of emissions. Last but not least, road freight congestion and its rising costs also play a role. The global rail freight transport market is gaining from increasing rail transport between Europe and China. Around 59 cities in China hold rail freight links with nearly 49 cities across Europe.
The report pays particular attention to the intermodal sector, which connects different transport modes to the rail transport system. It is expected to grow at a CAGR of 3.7% to reach USD 96 billion by the end of the analysis period. This segment currently accounts for a 23% share of the global Rail Freight Transportation market. Thanks to various trends, including globalization, growing domestic and international intermodal transport and the increasing emphasis on containerization, the intermodal sector is becoming more and more important.
From a cross-country perspective, the USA currently has the largest share of the global Rail Freight Transportation market. The US rail freight market is estimated to be worth USD 58 billion in the year 2022. The country currently accounts for a 34.4% share in the global market. China, the world's second-largest economy, is forecast to reach an estimated market size of USD 35.4 billion in 2026 trailing a CAGR of 5.5% through the analysis period. Within Europe, Germany is forecast to grow at approximately 3.3% CAGR while the rest of the European market will reach USD 35.5 billion by the end of the analysis period.
The report also focuses on selected competitors in the rail market (127 companies profiled in total), monitoring trends in rail freight transport and current projects. Among the topics covered in the report are the electrification of railways, digitalization, the impact of freight rail on the environment, GPS and GSM technology, and the growing role of AI in Intelligent Train Automation.