Industry

Rail Carriers

Year of Foundation

1994

Number of Employees

1000 - 4999

Telephone

+40 21 232 99 48

E-mail

[email protected]

Address

Bd. Pipera, nr. 1-IA, Et. 3-5
077190 Bucharest Voluntari
Romania

VAT number

RO6770181

Social media
Unicom Tranzit is a private rail freight carrier and forwarder operating in Romania since 1994. We are part of the Unicom Group.
The company's philosophy is based on the following principles:
Our clients are treated as partners and we are aware that our success depends on their success;
We try to attract and train people who want to excel and are able to capitalize on our material resources and to value especially themselves;
We maintain a fleet of performant and diversified rolling stock, capable of efficiently meeting the requirements of rail transport.
As mentioned before, one of the strengths of our company is the competence of our team. This is made up of positive, intelligent people, keen to continuously improve the way we work and find the best solutions for our clients. Their training allows us to offer superior quality services that we strive to improve on a permanent basis.
Our services:
Rail Transport
Freight forwarding
Rolling stock maintenance
Railroad activities outsourcing
Freight wagon rental
We want to distinguish ourselves through the consistency with which we fulfill our commitments to our customers.
We act on the principle that every client is entitled to have the following expectations form us:
To carry out in a timely and safe manner the engaged services
To maintain a relationship based on trust and transparency, fully informing the client about any problem that has arisen and promptly acting for a solution
To learn and adapt to its requirements in order to help the customer optimize its working processes
To efficiently manage our resources and support the customer in their effort to be as competitive as possible on the market
The rail transport can be seen as a vascular system of modern economy. Its role is to bring the necessary resources to the right place at the right time. In this system, our company represents several arteries that, when we go to the end of the mission, the parts that depend on us (our customers and partners) grow, develop and thus thrive together.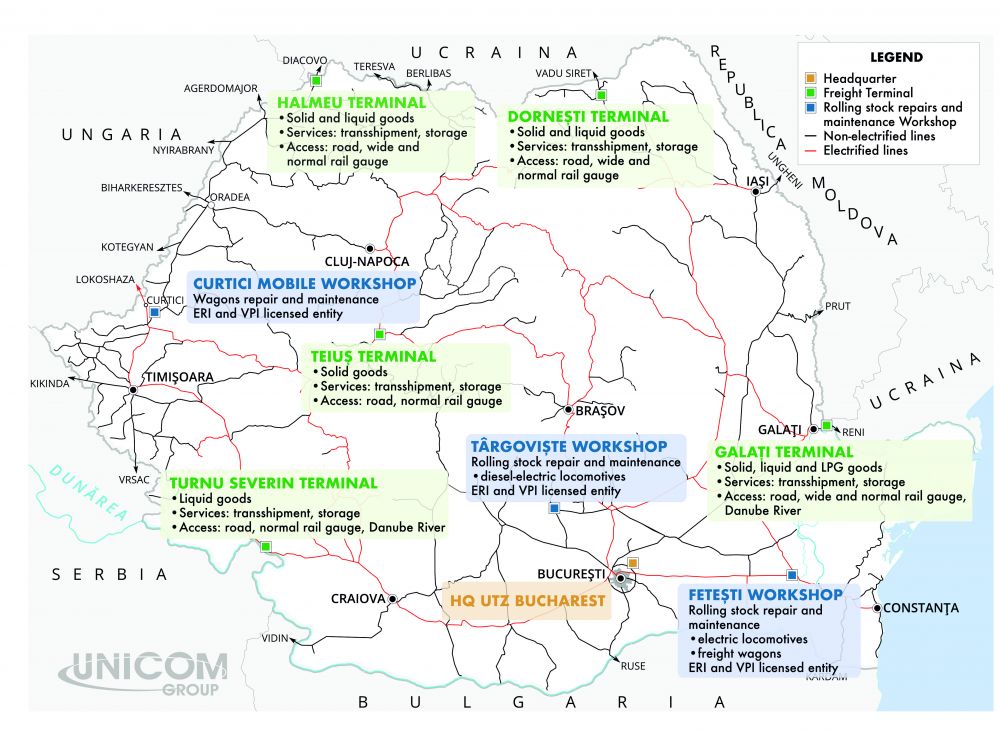 OUR FLEET:
Freight wagons: Zaes, Zas, Fals, Eaos, Eacs, Eaklmo, Eakkmos, Ks.
Locomotives: LE (electric), LDE (diesel), LDH (diesel).