RailHope - Christen bei den Bahnen
RailHope wants to help Christians on the railroads to network with each other. This is particularly important in the current challenging times. That's why we've created an app that makes it even easier. Connect with the RailHope community via the app!
Headquarters - Map
Im Löken 60
44339 Dortmund
Germany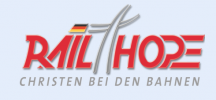 Discover other relevant companies
Not using RAILVIS Platform yet?
Rent a wagon, sell a locomotive, find a container, convert free capacity to profit. The RAILVIS Platform is the tool you need. It's faster, better organized, and more secure than email or phone calls.
Try RAILVIS Railway Marketplace