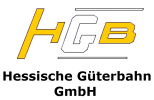 Hessische Güterbahn focuses on flexibility and is oriented towards the special needs of its customers from a wide range of industries.
Since 2003, our continuously growing team of employees has been coordinating and accompanying our customers' transports.
Thanks to our many years of experience in the logistics and transport industry, you can place your complete trust in us when it comes to punctuality, reliability and accuracy.
With this knowledge, we put your requirements into practice with pinpoint accuracy. Our extraordinary commitment in all areas of rail operations makes your transport a success.
Our service at a glance:
track construction logistics
construction train logistics
rail freigth transport
shunting services
Our locomotives:
187 LM
G1206
V100.01
V100.03
V100.04
Markets and regions of operation
Get in touch
Reach out to Hessische Güterbahn GmbH
Call us:
+49 6408 504508 0
Address:
Kasseler Str. 1
35418 Buseck
Germany