Lebronze alloys
We advocate a market vision based on the integrated production of copper alloys as well as nickel-based products. We specialises in wires, pinodal alloys and rod production.
Headquarters - Map
Voie de Châlons, Route Départementale 977
51600 Suippes
France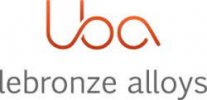 Discover other relevant companies
Not using RAILVIS Platform yet?
Rent a wagon, sell a locomotive, find a container, convert free capacity to profit. RAILVIS Platform is the tool you need. It's faster, better organized, and more secure than email or phone calls.
Try RAILVIS Railway Marketplace