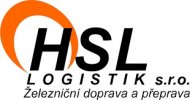 HSL - Logistik, s.r.o. is a railway freight carrier based in Prague. We are a subsidiary of the German freight carrier HSL Logistik GmbH.
For our customers, we transport a large number of goods such as steel, plaster of paris, cars, containers, grain, construction machinery, liquid fuels and various others through the entire European area and thus last transported around 12 million tons by rail in 2017.

The core tasks of the HSL include:
Freight train services in Germany and Europe
Complete transport handling and support
Regional shuttle train services
Terminal controls z. B. in Bremen and Rostock
Training of office and forwarding clerks (training of train drivers , wagon masters and shunters in the HSL Akademie GmbH)
Provision of train drivers and the implementation of wagon technical examinations, small repairs of freight wagons
Services within the supply chain
HSL-Logistik, s.r.o. Prague was established as a sales representative office in 2012.