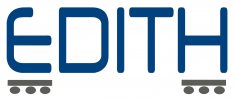 Industry

Consulting & Advisory

Year of Foundation

2014

Number of Employees

10 - 49

Telephone

+49 481 37 22 11 0

E-mail

info@edith-bahn.de

Address

Petersstraße 2
25746 Heide
Germany

Social media
As Eisenbahndienstleistung Dithmarschen - EDITH GmbH & Co. KG - we have been providing not only consulting and support to our customers in the railway industry since 2014. Moreover, we are constantly setting pioneering standards again and again by placing the highest demands on ourselves and our services. Accordingly, we offer railway companies (RU) in Germany and other European countries our services and innovations in the following business areas:
Operation and engineering
Training and testing
Software
Independent Valuation Office (UBS)

Legal advice
"Engineering for Safe Operations" - This leads us to improve the privatized railway through safe and efficient processes. In doing so, highly qualified groups of employees such as design engineers, railway operations managers (EBL), trainers and inspectors as well as software developers develop tailor-made solutions:
Operation & Engineering
In the area of "operations and engineering", for example, we take over the statutorily required functions of an EBL or safety manager, develop operational concepts and prepare valuation and expert reports.
Training & Testing
Our experienced trainers can be deployed extensively in the field of "training and testing". Our offers include, the advanced education courses, initial briefings and exams as follows:
Train driver
Periodic training courses (RFU)
Series approvals

In addition, with our mobile simulator, we can not only design further training content in a practical way, but also carry out monitoring.
E-learning
In future, EDITH GmbH & Co. KG will offer online education programs. Further information will follow.
Software
In addition, we develop innovative software solutions in line with the motto "From railwaymen for railwaymen". Our "Rail Network" software consists of different modules based on the specific needs of our customers. Their development is based on our many years of experience in rail services, so that we significantly improve rail safety through our software.
Independent Valuation Office (UBS)
In accordance with CSM Regulation 402/2013, our UBS carries out assessments of the risk management procedures and its results. In the course of this, it makes use of the various subject matter experts of the individual departments on an order-related basis.
Legal advice
Our cooperation lawyer advises you in the areas of: Railway, labour, tenancy and compensation law. This means that you receive everything from a single source! Competent and reliable!