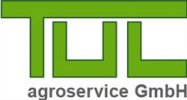 Our strengths are services around transport and unloading. We transport bulk goods for customers from the construction and agricultural industries throughout Germany and carry out train unloading and container handling. Our plus: our own railway siding. On our 50,000 square metres of open space, we also keep bulk goods for construction and garden ready for sale or delivery. Our IVECO contract workshop offers experienced service for the truck fleets of regional companies.
Freight forwarding
The name is a trademark: Throughout Germany and as far as Holland, the specialised transport vehicles with the green name logo of TUL agroservice GmbH from Prignitz are on the road. We transport around 600,000 tonnes of bulk goods such as fodder, grain, gravel, sand and crushed stone every year with our vehicles. A further 1 million tonnes are transferred from rail to road at our own siding in Falkenhagen or at transhipment points in the north.
Workshop
In our IVECO authorised workshop, not only our own vehicles are maintained and serviced, but also numerous trucks from companies in the region. As a reliable partner, the Dekra-certified workshop is known for good and fast service. In an emergency, the workshop team is available around the clock.
CT terminal
On site in Falkenhagen we have a completely newly built CT terminal. There is space for up to 240 40-foot containers or around 350 20-foot containers on an area of 6,500 square metres. These can be stored on site for a short time for direct transhipment or alternatively for the long term. Technology for direct loading from truck to rail is available on site.
Hotel Falkenhagen
Situated halfway between Berlin and Hamburg, the Hotel Falkenhagen offers attractive accommodation as well as professionally equipped seminar rooms. The restaurant welcomes you with fresh cuisine.
Photos by: Nico Dalchow – fotografenherz.de, TUL agroservice