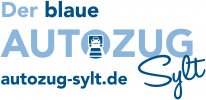 Since Fall of 2016, we have transported travelers to the island of Sylt and back, quickly and safely, in their vehicles, at a favorable all-in-one price that covers all passengers and luggage. As a Sylt company based in Westerland, we offer our passengers a friendly alternative to the DB Group featuring personal check-in and a clear view of the Wadden Sea from our modern flatcars. Two brand-new, bright blue locomotives affectionately known as "Debbie" and "Anne" reliably pull our two blue trains to Sylt and back. Quietly, economically, and reliably – that is our promise to the island of Sylt and its guests.
Passengers check in and board our train at the loading terminals in Niebüll and Westerland. Address: Kurt-Bachmann-Ring 2, 25889 Niebüll, Lanes 9 to 11, and Industrieweg 16, D-25980 Sylt, Lane 7+8. During the 35-minute crossing, you remain comfortably seated in your vehicle.
Vehicles: We transport cars, SUVs, vans, vehicles with trailers, trucks, buses and caravans up to a maximum height of 4.05 m, a maximum width of 2.86 m, a maximum length of 20.50 m, a maximum weight of 50.0 t and a ground clearance of at least 10 centimeters.
The BlueTrain to Sylt also transports heavy trucks, buses and vehicles with trailers and caravans to the island and back, up to 26 times a day. New, modern transporter wagons with particularly large on-ramps onto the train and comfortable, smooth ride dynamics ensure a relaxed passage even with large vehicles. We always transport you in a fast, safe, and friendly manner at favorable prices. At convenient times and favorable terms, including for shipping companies and business customers.