Multicont Zrt.
Multicont Nemzetközi Szállítmányozási Logisztikai Zrt.
High-quality, personalized service in all areas of international shipping, be it sea, rail or road and other services, such as customs clearance, warehousing, shipping insurance and consulting.
Headquarters - Map
Andrássy út 45.
1061 Budapest
Hungary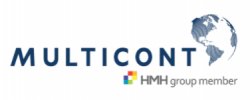 Discover similar companies
Not using RAILVIS Platform yet?
Rent a wagon, sell a locomotive, find a container, convert free capacity to profit. RAILVIS Platform is the tool you need.
Try RAILVIS Railway Marketplace