KONČAR – Električna vozila d.d.
The main activity of KONČAR – Electric Vehicles Inc. is the development, production, modernization, and maintenance of electric vehicles and equipment for electric vehicles.
Headquarters - Map
Ulica Ante Babaje 1
10090 Zagreb
Croatia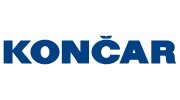 Not using RAILVIS Platform yet?
Rent a wagon, sell a locomotive, find a container, convert free capacity to profit. RAILVIS Platform is the tool you need. It's faster, better organized, and more secure than email or phone calls.
Try RAILVIS Railway Marketplace