East-West Intermodális Logisztikai Szolgáltató Zrt.
Transfer of a container from the wide gauge railway wagon or truck to a normal gauge railway wagon or truck.
Headquarters - Map
Róbert Károly körút 59
1134 Budapest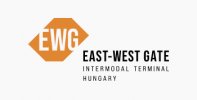 Discover other relevant companies
Not using RAILVIS Platform yet?
Rent a wagon, sell a locomotive, find a container, convert free capacity to profit. The RAILVIS Platform is the tool you need. It's faster, better organized, and more secure than email or phone calls.
Try RAILVIS Railway Marketplace