Cembre S.p.A.
Cembre is a leading manufacturer of electrical connectors, crimping & cutting tools, railroad products, identification & labeling systems.
Headquarters - Map
CembreVia Serenissima, 9
25135 Brescia
Italy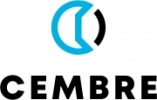 Discover other relevant companies
Not using RAILVIS Platform yet?
Rent a wagon, sell a locomotive, find a container, convert free capacity to profit. The RAILVIS Platform is the tool you need. It's faster, better organized, and more secure than email or phone calls.
Try RAILVIS Railway Marketplace