Rail Cargo Group
With 5,887 employees, subsidiaries throughout Europe and an annual turnover of 1.9 billion euros, the Rail Cargo Group ranks among Europe's leading rail logistics companies.

Agorastore
Agorastore operates large numbers of auctions of used equipment from public authorities and large companies, offering the chance to find great deals and save money.

IVK-Wagon Company
IVK is a team of professionals in the railway freight wagon market with significant experience in the procurement and sale of railway rolling stock, as well as component parts and repair.

Not using RAILVIS Platform yet?
Rent a wagon, sell a locomotive, find a container, convert free capacity to profit. The RAILVIS Platform is the tool you need. It's faster, better organized, and more secure than email or phone calls.
Try RAILVIS Railway Marketplace
LEMTRANS
Lemtrans is a leading private operator of railway rolling stock in Ukraine. The company's business areas cover shipments with its own rolling stock, freight forwarding services, monitoring, repairs.

UAB "Skinest Baltija"
Skinest Baltijaoffers you professional complex railroad solutions: company designs and builds railroad tracks, maintains and repairs them, sells and leases freight cars, provides railway spare parts.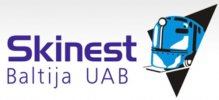 Skinest Rail AS