TX Logistik Austria GmbH
TXLOGISTIK gets things moving. As a rail logistics company, we are directly connected to the pulse of the European economy.
Headquarters - Map
Concorde Business Pk. 1
2320 Schwechat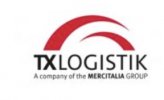 Discover other relevant companies
Not using RAILVIS Platform yet?
Rent a wagon, sell a locomotive, find a container, convert free capacity to profit. RAILVIS Platform is the tool you need. It's faster, better organized, and more secure than email or phone calls.
Try RAILVIS Railway Marketplace