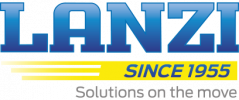 Industry

Logistics Companies

Year of Foundation

1955

Telephone

+39 0521 615021

E-mail

[email protected]

Address

Via Bonn n. 6
Interporto di Parma
43010 Fontevivo PR
Italy
>6400
wagons loaded or unloaded/year
>2M
km driven on Itaian roads
Lanzi Transporti is a family business established in 1955 by Egidio Lanzi and located the logistic area in Parma's Freight Village. With passion has established itself at first in the national and later in the international panorama, receiving estimated awards. Nowadays, with strength and unchanged commitment keeps looking at the future accepting the challenges required by the logistic market.
The company occupies 33.000 mq and it is equipped with its own rail terminal with internal Rails connected with modern warehouses equipped with transport loading/ unloading bays with large handling equipment for storage and management of different product categories. The terminal is connected to the main Italian railways lines (Bari, Naples and Catania) and European (France, Germany, Northern Europe and Eastern Europe).
Thanks to the experience and the use of specific equipment as: coils, coils on pallet, profiles, sheet, bars, containers, big bags and cellulose we can provide a tailor made and efficient services.
Our business unit:
LANZI TRANSPORTS:
ideals with domestic transport full load even with ADR.
LANZI TERMINALS:
2 railway tracks measuring 330mt are dedicated to handling cargo/containers, one of which is indoors with 2 overhead traveling cranes with a maximum capacity of 30 tons and different hooks for every need. In this way, is it possible to move any type of goods (steel coils, construction materials, palleted cargo, machinery, cellulose coils, tubes or metal meshes) on wagons except those that require temperature-controlled transport.
LANZI LOGISTICS:
safe choice for storage and treatment of goods with RF data management, food and customs authorization of temporary custody.