Alaine UK Limited
TRANSPORT, LOGISTICS, OVERSEAS et FREIGHT FORWARDING: our expertise in these four complementary businesses enables us to provide effective solutions to the needs of industry and retailers alike.
Headquarters - Map
1-3 Waterloo Crescent
CT16 1LA Dover
Kent
United Kingdom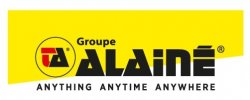 Discover other relevant companies
Not using RAILVIS Platform yet?
Rent a wagon, sell a locomotive, find a container, convert free capacity to profit. The RAILVIS Platform is the tool you need. It's faster, better organized, and more secure than email or phone calls.
Try RAILVIS Railway Marketplace