At the christening of a locomotive newly painted in the Cityjet design, the guests were able to take a direct look at the equipment of the carriages.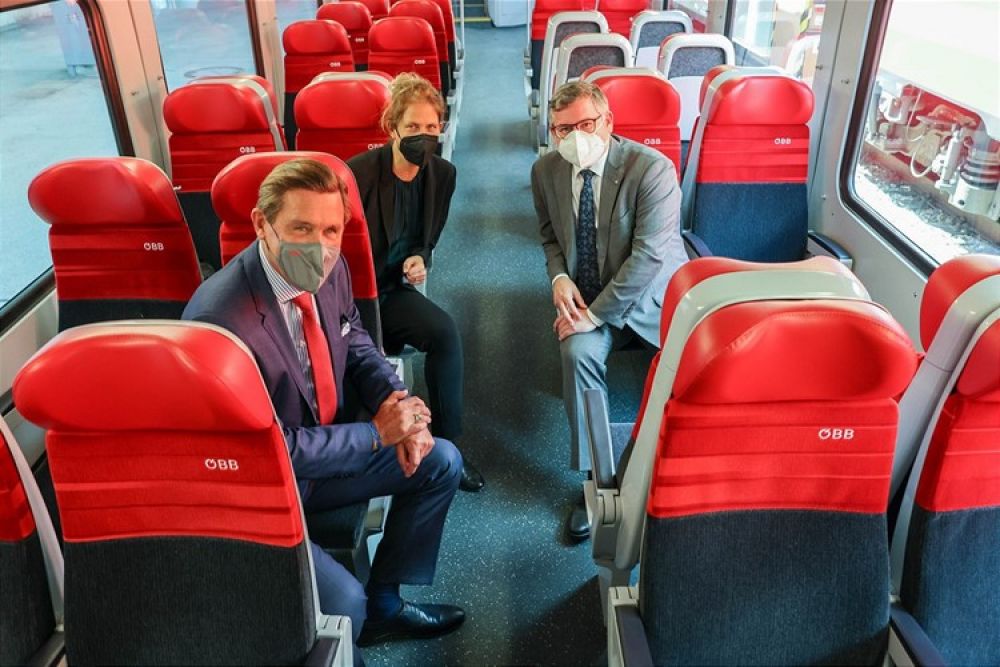 The aim of the DOSTO upgrade program, which started in 2019, is to make rail travel even more comfortable and modern. Over approximately four years, a total of around 100 double-decker coaches will be completely refurbished by ÖBB Train Tech at the St. Pölten site. As of May, twelve sets - consisting of 51 coaches - were already in operation on the Franz-Josefs-Bahn in Vienna and Lower Austria as well as on the line between Retz and Payerbach/Reichenau.
"In addition to increased comfort, maximum safety and functionality played a major role in the innovations," explains Sabine Stock, Member of the Management Board of ÖBB-Personenverkehr AG, and adds: "With the upgrade program, we want to further improve the passenger experience to inspire even more people to travel or commute by train."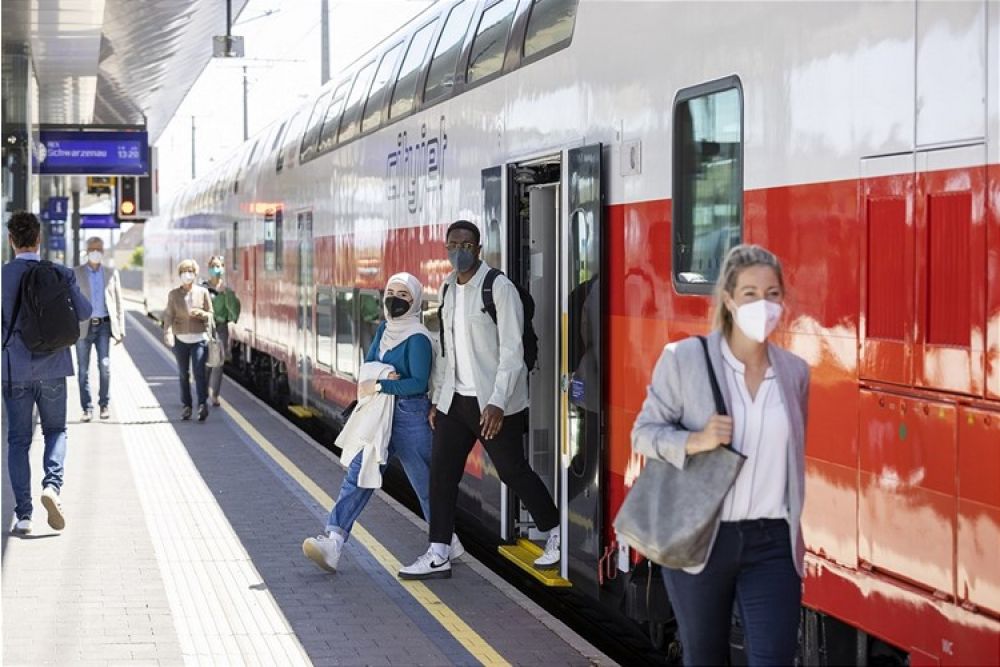 In the course of the upgrade, for which around EUR 90 million will be invested, the seats will receive new covers and additional seat cushions will be installed in the mezzanines. A multi-purpose area with space for six bicycles as well as prams and luggage will be created in each intermediate car. The free WLAN in the modernized carriages is not only interesting for commuters. The newly installed quiet zones are unique in local and regional transport. For an even safer journey, the door controls will be renewed and additional emergency intercoms will be installed.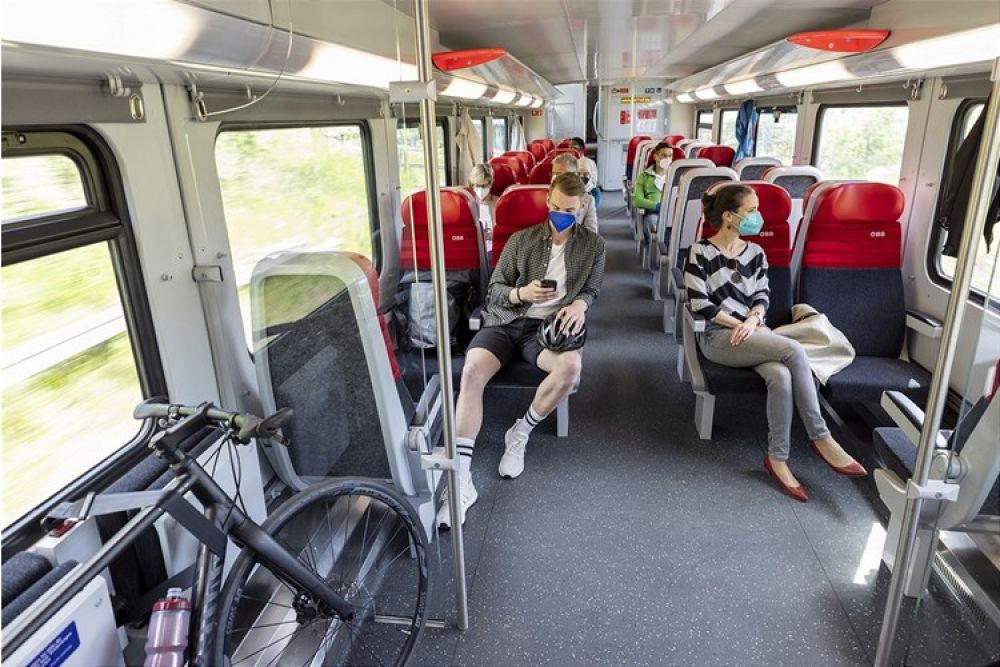 Vienna's City Councillor for Finance and Economic Affairs Peter Hanke emphasizes: "With these modernized carriages, commuters and passengers can travel even more comfortably between Vienna and Lower Austria and at the same time contribute to environmentally friendly mobility. That is why we are investing in the expansion of rail transport in and around Vienna over the next few years with the second Vienna Rail Infrastructure Package. This is an important step towards climate neutrality and additionally strengthens the Eastern region as a business location."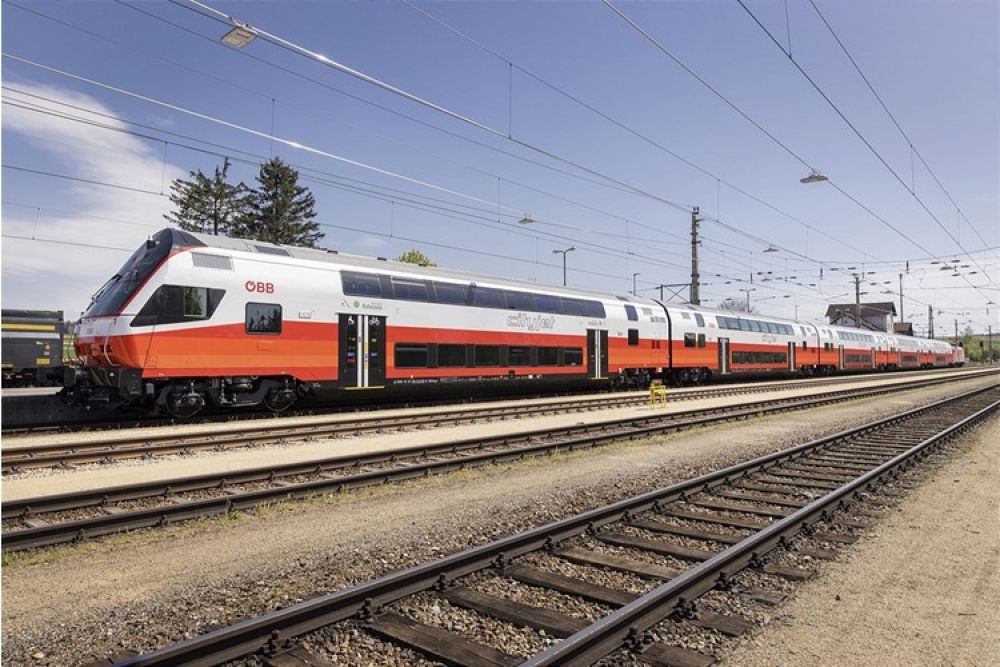 "With the modernized double-decker coaches, we are sending an important signal for attractive offers in public transport and especially local commuter transport in Lower Austria. Together with the new double-decker trains, there will be almost 100 efficient and state-of-the-art trains with a capacity of around 550 seats per train. The introduction of the climate tickets was the first step towards attractive public transport - with the modernization of our trains, we can now make our public transport not only cheaper but also more comfortable and better," Lower Austria's Provincial Councillor for Mobility Ludwig Schleritzko was pleased to say.