The Emmerich-Oberhausen line is very important for the freight transport artery Rotterdam - Genoa. This part is 72 kilometers long and cannot be completely closed for a longer period, as many international freight trains cannot be completely transferred to the existing diversion routes. The rehabilitation will therefore take place between November 2024 and June 2026, with limited closures and mainly single-track operation based on agreements concluded with the Netherlands. DB will implement as many measures as possible in parallel during this period. These include the construction of the already planned third runway and the necessary reconstruction of existing facilities.
Federal Transport Minister Volker Wissing describes the reconstruction of both corridors: "I am very pleased that the consultation with industry is continuing and that we can take further steps towards a high-performance network. The overall reconstruction will once again improve conditions for freight traffic, especially on the heavily used Rotterdam-Genoa section. By contrast, the Hamburg-Berlin route has already demonstrated in the past the climate protection potential of well-functioning rail transport on this route."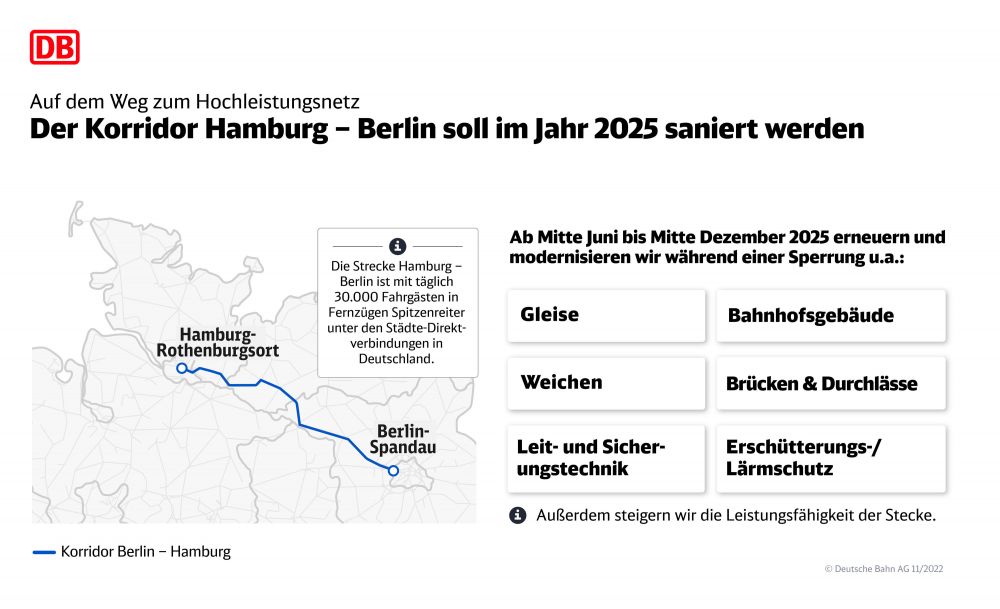 And this particular Hamburg-Berlin corridor will be closed to train traffic from June to December 2025 for the so-called overhaul. During this time, DB is carrying out a series of works on the tracks, switches, and overhead lines along the approximately 280-kilometer-long route and developing equipment for the digital railway operation of the future, including the modernization of signals. In Hagenow-Land and Wittenberg, DB is expanding the track infrastructure. Additional overtaking facilities for trains will provide greater flexibility in long-distance, local, and freight traffic. Thanks to the complete reconstruction, numerous line closures will be avoided in the coming years. In addition, DB is modernizing stations. They will receive modern platform roofs, weather shelters, and new guidance systems and will be equipped for better accessibility. Passengers and goods will reach their destinations reliably and predictably during the work. To this end, DB is developing a comprehensive compensation concept with the railway undertakings and the Länder concerned. Detour routes will be updated in advance.
"The Hamburg-Berlin route connects Germany's two largest cities and, with 30,000 passengers a day on long-distance trains is the front-runner among direct city connections in Germany. Already today, trains run here every half hour according to the Deutschlandtakt. We are also focusing on freight transport. With Emmerich-Oberhausen, we are rehabilitating the transport artery Rotterdam-Genoa. Both corridors are central building blocks in the future high-performance network. Our clear goal is to win even more people and companies for climate-friendly rail through the bundled renewal of the most important corridors," concludes DB CEO Richard Lutz.