The Rail Champion award was presented to Ukrainian Railways (UZ) for its remarkable resilience and continued transport services in times of war and unimaginable hardship. In addition, Eglė Šimė was recognised as this year's Rail Trailblazer for her focus on empowering women in the railway industry, while skilfully steering her company, LTG Cargo, through turbulent times. The awards were presented at a prestigious ceremony in Belgium's Royal Museums of Fine Arts in the presence of senior officials from the European Commission, Members of the European Parliament, the Swedish Presidency of the EU, represented by the Swedish Minister for Infrastructure and Housing, Andreas Carlson, and the Ukrainian Ambassador to the EU, Vsevolod Chentsov.
The title of Rail Champion of the European Railway Award is an honorary recognition jointly awarded by the organisers. The recent tragic events in Ukraine and the remarkable efforts to keep transport lines open made Ukrainian Railways (UZ) an obvious recipient of this year's award.
Oleksandr Pertsovskyi, Board Member of Ukrainian Railways, was on hand to accept the award on behalf of UZ and all its staff. In his acceptance speech, he said: "It is an honour for the Ukrainian railway workers who continue to do their job every day despite constant shelling and infrastructure damage. We have managed to evacuate more than 4 million people by rail, 1 million of them children. So I would like to say a big thank you to all the railway workers in Europe who ensured their safety and to ordinary Europeans who generously took in and cared for our children. It's important for us, the railwaymen, to know that the children we saved - and paid for with 327 lives - are cared for".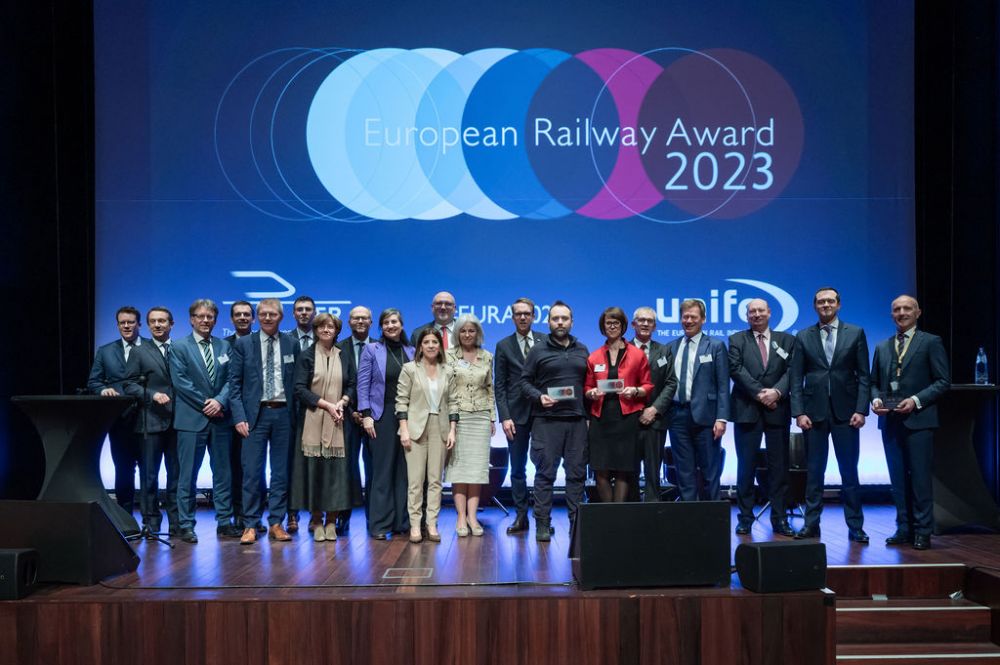 Andreas Matthä, CER Chairman and CEO of the Austrian Federal Railways ÖBB, took the opportunity to emphasise: "This is a very special evening for CER - we're finally meeting again in person at a time when the rail sector is facing major challenges. Just as we are recovering from the financial burden of Covid, we now have to deal with skyrocketing energy prices. We call on the European Union to take decisive action to support the railway sector, both financially and in terms of regulation, so that we can continue to be a reliable partner for both passengers and industry.
The second major theme of the evening was better representation of women in the railway sector. This is a priority issue for the sector, where women and girls make up more than 50% of rail passengers but only about 20% of the workforce. For this reason, the event's Rail Trailblazer Award was dedicated to achievements in promoting women in rail. Selected by a jury of policymakers, industry experts and journalists, the 2023 Rail Trailblazer is Eglė Šimė, CEO of LTG Cargo, for her focus on empowering women in the rail industry while skilfully steering her company through turbulent times.
When Eglè Šimė joined LTG Cargo in 2019, women made up only 19% of the company's management. Under her leadership, the number of female managers at LTG Cargo has reached 26% in just a few years. Ms Šimė is also a trailblazer in other ways, having led her company through the largest digitalisation project in LTG Cargo's history.
Accepting the award, Eglė Šimė said: "For me, this award is about the possibility and necessity of change. I am honoured by this recognition and accept it as an encouragement to continue to strengthen our company by changing our business focus from East to West and hopefully inspire other women in the industry to build confidence and dare to choose careers where they can thrive".
The Rail Trailblazer trophy came with a €10,000 donation to the charity of the winner's choice. Ms Šimė chose to donate the prize money to the Olena Zelenska Foundation, a charity set up by the First Lady of Ukraine to help rebuild the lives of people affected by war.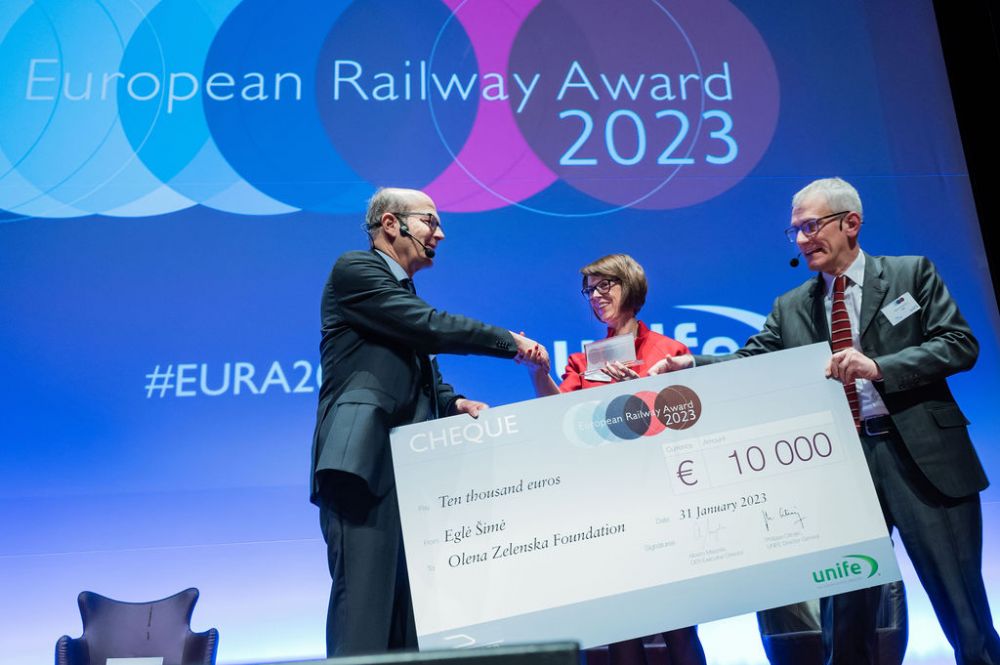 Launched in 2007, the European Railway Award celebrates and recognises outstanding contributions to the railway sector. The 2023 ceremony attracted hundreds of guests from across Europe, including local, national and EU politicians and transport stakeholders.