After decreases of 2.2% and 6.1% in 2019 and 2020, EU rail freight transport performance saw some recovery in 2021. To prevent the spread of the COVID-19 pandemic, Member States put in place (2020 - 2021) restrictive measures that had a significant impact on rail freight transport, although rail passenger transport was more affected.
The first signs of recovery were observed in the fourth quarter of 2020 when data pointed to a 5.1% increase compared with the same quarter of the previous year. This trend gradually continued in all quarters of 2021.
In this year (2021) rail freight transport up 8.7% compared with 2020, reaching almost the high level of 2018, at 399 billion tonne-kilometers (tkm).
The highest growth rate in rail freight transport was recorded in the second quarter of 2021, with a 20.5% boost, followed by the third quarter (+8.0%). The first and fourth quarters increased by 3.4% each, compared with the same quarter in 2020.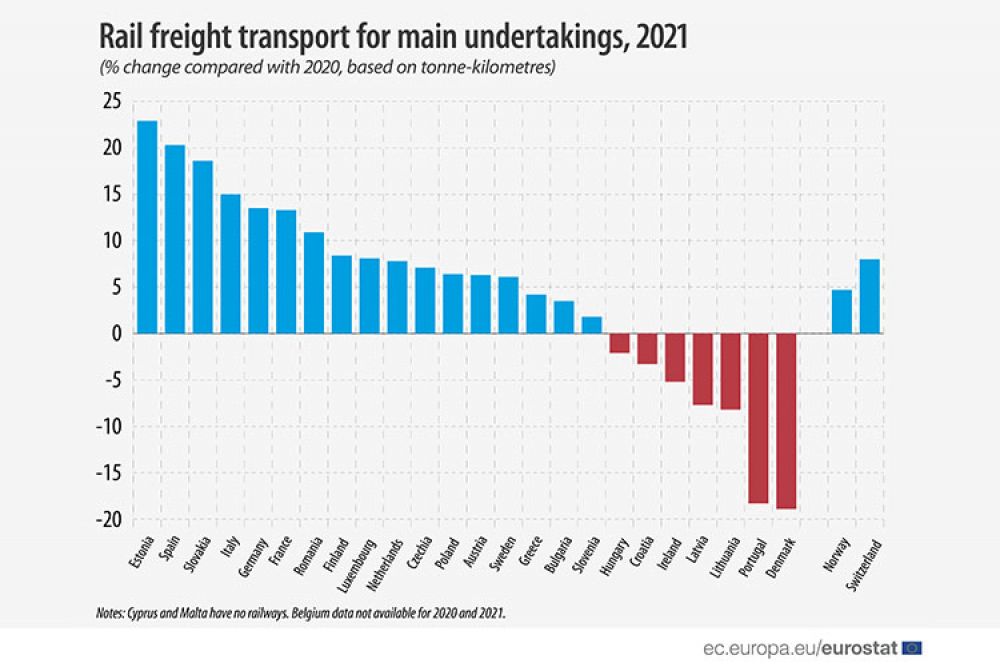 Germany was the largest contributor to the rail freight transport performance in the EU, with 123 billion tkm in 2021, representing around 31% of the EU total. Poland and France followed with 54 and 36 billion tkm, respectively. At the other end of the scale, Greece, Luxembourg, and Ireland registered less than 1 billion tkm in 2021.
In seven EU Member States, rail freight transport decreased between 2020 and 2021: Denmark (-18.9%), Portugal (-18.3%), Lithuania (-8.2%), Latvia (-7.7%), Ireland (-5.2%), Croatia (-3.3%) and Hungary (-2.1%).
In the remaining Member States, rail transport performance grew in the same period. The highest increase was observed in Estonia (+22.9%), followed by Spain (+20.3%), Slovakia (+18.6%), Italy (+15.0%), Germany (+13.5%), France (+13.3%), and Romania (+10.9%).
In absolute terms, Germany was the Member State with the highest increase: +14.7 billion tkm between 2020 and 2021. France followed with a growth of 4.2 billion tkm over the same period.