Amsted-Rail
Amsted Rail builds everything from wheels, axles and bearings to brake systems, bogies, bolsters and more. Whether you need components or integrated systems, global tracking technology or performance analytics, Amsted Rail has the answers.
Headquarters - Map
311 S. Wacker
IL 60606 Chicago
United States of America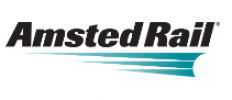 Discover other relevant companies
Not using RAILVIS Platform yet?
Rent a wagon, sell a locomotive, find a container, convert free capacity to profit. The RAILVIS Platform is the tool you need. It's faster, better organized, and more secure than email or phone calls.
Try RAILVIS Railway Marketplace