Via Cargo Logistics GmbH
Since 2005, first as a freight forwarder, and now as a freight forwarder and rail carrier in one, we have been transporting goods all over Europe.
Headquarters - Map
Katernberger Str. 107
45327 Essen-Katernberg
Germany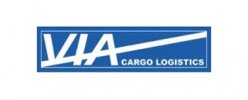 Discover similar companies
Not using RAILVIS Platform yet?
Rent a wagon, sell a locomotive, find a container, convert free capacity to profit. RAILVIS Platform is the tool you need.
Try RAILVIS Railway Marketplace