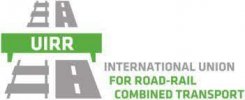 Industry

International Organisations

Year of Foundation

1970

Telephone

+32 2 548 78 90

E-mail

[email protected]

Address

31, rue Montoyer - bte 11
1000 Bruxelles / Brussels
Belgium

Social media
500
Transport terminals connected
Created in 1970, the International Union for Road-Rail Combined Transport (UIRR) is the industry association for the sector of Combined Transport in Brussels. Its members are Combined Transport Operators and Combined Transport Terminals.
UIRR actively promotes Combined Transport, primarily towards European decision-makers and facilitates the enhancement of the sector, while also supporting the daily functioning of this ecologically and economically sustainable mode of long(er) distance freight transport.
Our tasks:
promotion of the activity in question
co-ordination of the "internal" work
a role of service centre on demand
Promotional activities:
steps towards the political authorities such as the diverse governing bodies of the European Union, UN/ECE and vis-à-vis the industrial targets concerned (UIC/CER, ERFA, IRU, FIATA/CLECAT, ERFCP, F&L, etc.)
drawing up and distribution of position papers on legislative or statutory developments directly or indirectly influencing commercial opportunities in CT
active participation in related conferences and seminars
production of promotional documents such as the Annual Report, the statistical brochure, descriptive leaflets, etc.
Currently the UIRR consists of 41 member companies in 17 European countries.