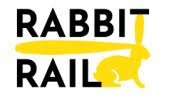 "We know the Czech railways like the palm of our hand."
The company Rabbit Rail s.r.o. provides comprehensive services in a professional standard in the field of rail transport. Company´s goal is to satisfy all needs of the customers, assure highly qualified services and flexibility.
Join Rabbit Rail´s business partners!
Rabbit Rail s.r.o. is focused on the freight transport of a wide range of commodities. The company provides a comprehensive logistics service with regard to current customer requirements. Rabbit Rail s.r.o. operates rail transport throughout the Czech and Slovak Republics and offers transport with the help of a network of partners in the other EU countries.
The company responds to all inquiries immediately. It can dispatch trains in the ad-hoc mode, however very favourable prices for longer-term cooperation can be offered.
Rabbit Rail services:
Freight and passenger rail transport
Perspool – engine drivers, chief guard, carriage and wagon examiner
Advisory and consultancy in the field of railway operation and rail transport
"We believe in perfectly done work and the top level service," says Ing. Pavel Králík, CEO.
2
CZ+SK
Transport Licence
Markets and regions of operation
Get in touch
Reach out to Rabbit Rail s.r.o.
Call us:
+420 605 863 063
Address:
Za dráhou 824
281 51 Velký Osek
Czech Republic
---