JSC "Gargzdu gelezinkelis"
UAB "Gargždų geležinkelis"
We provide high-quality services in the railway sector and ensure long-term solutions for our current and future partnerships.
Headquarters - Map
Gamyklos str. 21
LT-96155 Gargždai
Lithuania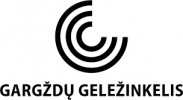 Not using RAILVIS Platform yet?
Rent a wagon, sell a locomotive, find a container, convert free capacity to profit. RAILVIS Platform is the tool you need.
Try RAILVIS Railway Marketplace