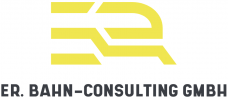 The ER.Group is your full-service provider for the railway industry.
With our company ER. bahn-consulting GmbH and our subsidiary ERC.D GmbH, we successfully support our customers throughout the entire railway system network.
ER. bahn-consulting GmbH was founded in 2010 with the aim of further developing and continuously improving the railway system network in a sustainable and successful manner. Characterised by our guidelines, "open, honest, appreciative and solution-oriented", we support you individually, linked with the highest qualitative demands for safe railway operations. Due to our strong focus on changing market conditions and legal realignments, we are always able to offer our clients a broad and solution-oriented portfolio.
ER. bahn-consulting GmbH is your partner for:
in the creation, updating and further development of quality and safety management systems (according to ISO 9001:2015 & DELVO (EU) 2018/762)
in the continuous support of your railway company with our professional safety management organisation

in the creation, updating and further development of your maintenance management system (DVO (EU) 2019/779)

for railway operations management activities (public and non-public railways)

for interim management by technical experts for e.g. operational start-ups (öBL, rulebook manager, railway operations manager, etc.)

expert services

for the hiring out of train drivers in passenger and freight transport (hiring out of employees)

in the initial, further and advanced training of your railway operating personnel with our EBA-recognised training and examination organisation according to TfV

Get in touch
Reach out to ER. bahn-consulting GmbH
Call us:
+49 911 80 12 95 00
Address:
Ulmenstraße 52f
90443 Nürnberg
Germany