ALBRAIL Sh.p.k.
Rail transport of crude oil from to the national rail network. Loading of crude oil wagons at the loading station. Transportation of other goods, depending on customer requirements.
Headquarters - Map
Blvd. Martyrs of the Nation; Twin Towers, Tower 2, floor 5/1
Albania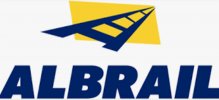 Not using RAILVIS Platform yet?
Rent a wagon, sell a locomotive, find a container, convert free capacity to profit. The RAILVIS Platform is the tool you need. It's faster, better organized, and more secure than email or phone calls.
Try RAILVIS Railway Marketplace